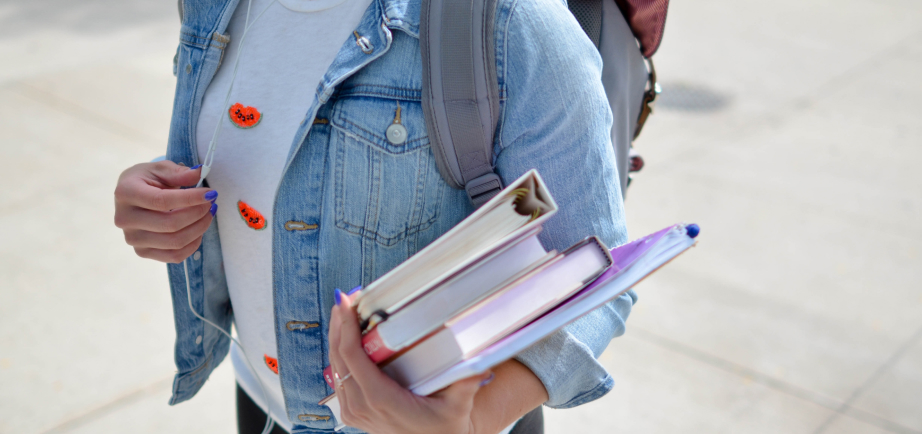 It's school time again! You're probably feeling excited and maybe a little sad that the summer is almost over. Are you ready to get back to school?
Here at Datability, we are beyond thrilled about the new school year and can't wait to share some terrific news with you! We have a new board member joining our team and a fresh new feature that will delight the teachers using Datability.
We've also put together a list of helpful back-to-school ideas to make your transition into the new school year smooth and easy. Should we get right into it?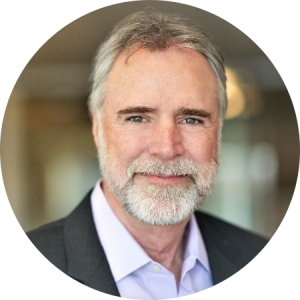 Meet Our New Board Member: Welcome Tom Reap
Datability is excited to announce the appointment of a new board member – Tom Reap.
Tom is the former CEO and Founder of Centris Group and the creator of IEP Direct, a web-based computer software system designed to draft, revise, and distribute IEPs for special education students.
He holds a Doctorate in Psychology from Yeshiva University and a Master of Science degree in Education from the City University of New York. Tom is a licensed psychologist, certified as a school psychologist, school administrator and district superintendent. And most important of all, Tom is a passionate advocate for Special Education and our dear friend.
We are certain Tom will become an indispensable member of the Datability team and help propel our mission forward.
We've Got a New Feature – Teachers Will Be Thrilled!
Our team is always at work to keep improving Datability and simplifying IEP data and student progress tracking. We are excited to share a handy feature that's been freshly added to our platform.
This new functionality allows teachers to share data with each other to be able to report back to the parents and write IEP reports.
Here's how it works:
1. The teacher selects the student from their list.
2. Then they select the gear button on the right and choose 'share student'.
3. Finally, they input the other teacher's email address with whom they'd like to share the data.
And that's it! With this new feature, sharing IEP data between teachers is as easy as one, two, three.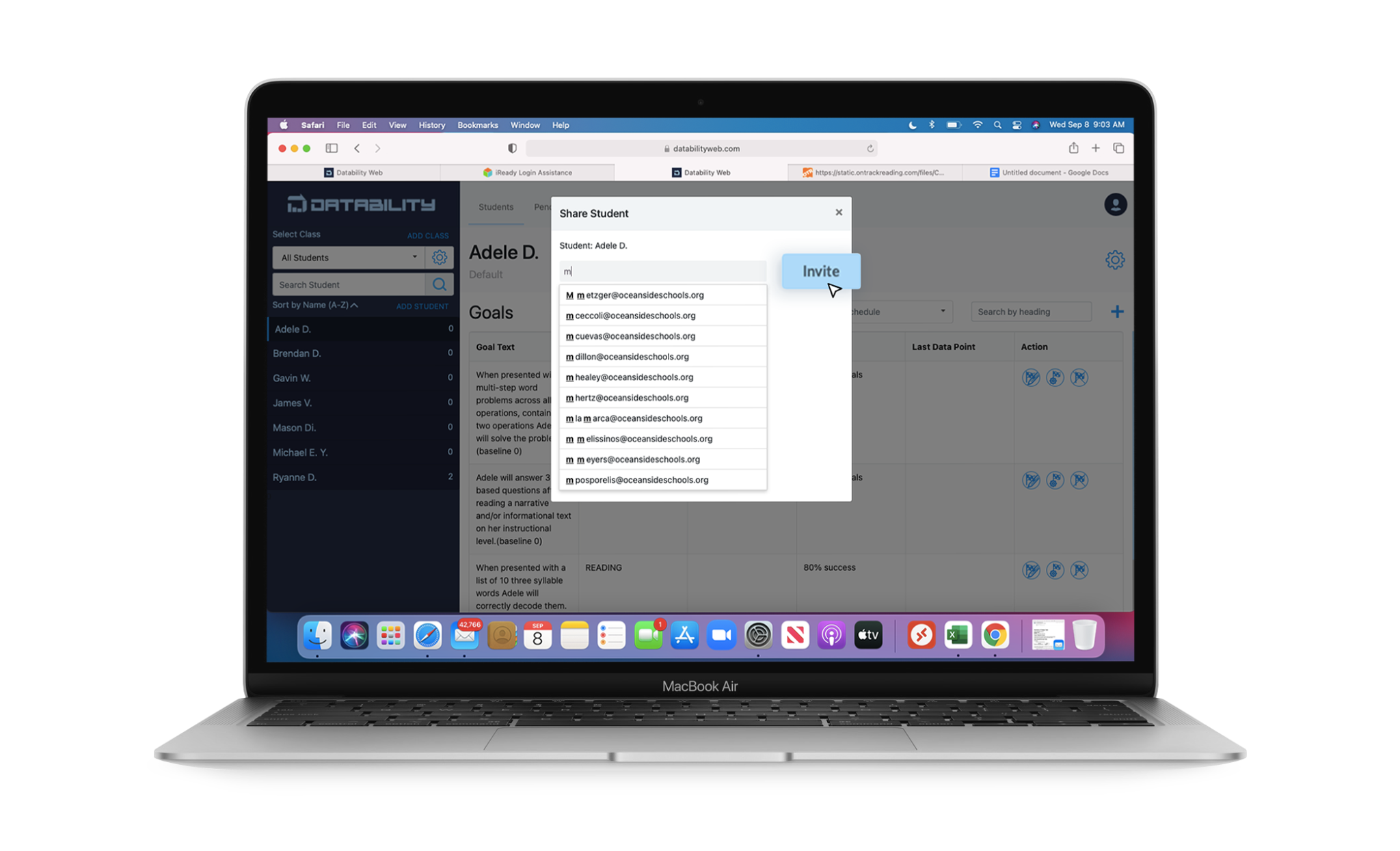 Helpful Tips for Back-to-School Success
Are you ready to swap the fun, carefree days of summer for the new school year? Back-to-school makes everyone a little nervous: parents, teachers, staff, and especially students. But worry no more! We've compiled five useful tips to make your transition into the new school year as smooth and easy as possible.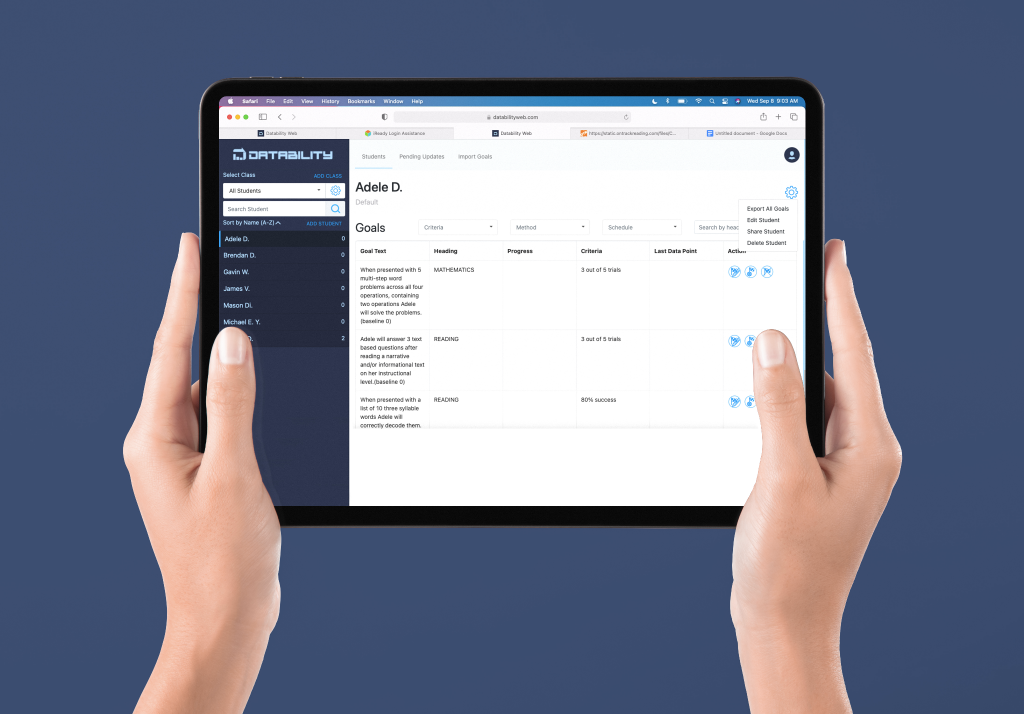 Organize the Paperwork
There is tons of paperwork and documentation to track for teachers and parents of special ed students. Try to keep a calendar of special education meetings and school events to know what's coming up on the agenda. Arrange all the special ed documentation and IEPs sequentially in a designated folder to stay organized.
Review the IEPs
The IEP is the foundation of special education students' learning programs. It's important that both teachers and parents are on the same page about the educational goals and strategies outlined in a child's IEP. Consider using Datability to keep up to date with IEPs from one centralized cloud platform and hone a collaborative parent-teacher-child relationship throughout the school year.
Establish a Routine
Special education students thrive in a scheduled and structured environment. So, it is important to plan the changes in a child's daily schedule both at home and at school. Parents can do their part by organizing and practicing students' back-to-school routine before the actual first day of school. Teachers, on their part, should create a classroom schedule that accounts for teaching and service hours required for each student.
Keep Everyone Informed
Fostering a culture of open and honest communication is everyone's responsibility and is especially crucial in the world of special ed. Do not hesitate to bring up concerns or questions that you feel are important to share. The more open and proactive you are, the better every child's needs would be addressed at school and at home.
Stay Positive
Students pick up on your mood, expectations, and frustrations. But they also pick up on your excitement, hope, and gratitude. Make sure you are starting the new school year on a positive note.
Interested in learning more back-to-school tips for students with special needs?
Read more here