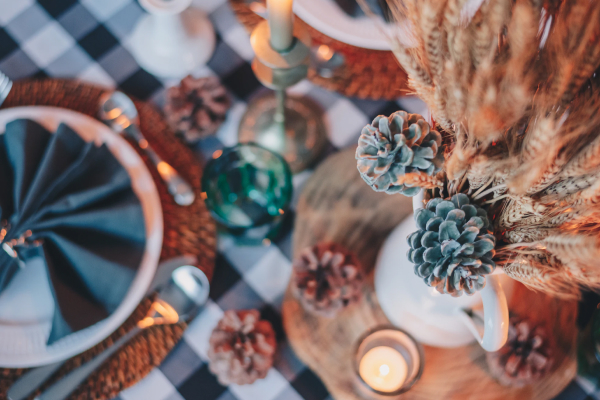 We hope you are excited for Thanksgiving the same way we are! We think Thanksgiving has all the elements of the perfect holiday — you get to eat delicious classic dishes like roast turkey and pumpkin pie and spend time with family and friends.
There are plenty of reasons to love Thanksgiving, so keep scrolling for some ideas about how to be inclusive and have fun during this holiday season! With these simple activities, you can foster a greater understanding of Thanksgiving and promote the development of important life skills in special needs children.
Planning for Special Accommodations
If you are hosting a Thanksgiving get-together at home or in class, make sure to ask about any special requests. If someone uses a wheelchair or other type of mobility device, it's important to discuss seating arrangements prior to the event and make sure the place is wheelchair accessible.
Some kids are on a special diet and may have food allergies and intolerances. If you are cooking with students at school or having a Thanksgiving feast at home, make sure to keep a detailed record of the ingredients you are putting in each dish. To find out how to make a Thanksgiving cooking lesson a success with special needs children, check out the article below.
Dressing for Thanksgiving
Here are some fun ideas of festive accessories that will work wonders for children with sensory issues or other special needs.
Paint a Thanksgiving design on the child's cheek or hand.
Stick a feather into a ponytail or pin it to the back of a sweatshirt hood.
Use fabric paints to decorate a plain t-shirt with Thanksgiving designs.
Lace the shoes with Thanksgiving colored or themed shoelaces.
Use Thanksgiving colored or themed socks.
Writing "I'm Thankful" Letters
Family, gratitude, and thankfulness are the true meanings of Thanksgiving. "I'm Thankful" letters help teach children about these important values and help promote language and literacy development. Here is how it works:
Discuss the definition of the word "thankful" and talk about the things you are thankful for.
Encourage children to think about and share things they are thankful for.
Have them write a letter to someone to express what they are thankful for or help them write a letter. Illustrations are welcome, too.
And finally, encourage them to share their letters with family and friends.
These types of activities teach children about the traditions and customs that are associated with Thanksgiving. For more engaging and fun-filled games, check out this resource.
Keeping the Focus Where it Belongs with Datability
Thanksgiving requires a lot of planning on everyone's behalf, but teachers are especially busy during this time. Datability is always there to assist teachers with IEP data collection and reporting, so that they can focus more on organizing a memorable Thanksgiving for their students. To get more insight into the platform, schedule a consultation.
Thanksgiving is a wonderful holiday to celebrate family, friends, and togetherness. Now that you're better prepared to throw a special needs Thanksgiving, we hope you have a memorable and inclusive holiday this year!